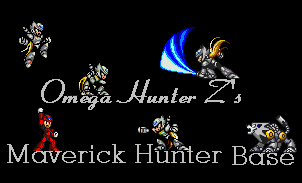 Omega Hunter Z: Hey, and welcome to Omega Hunter Z's Maverick Hunter Base. I got a small group of Reploids from my unit to help me run this place. Anyway, in the base, you will find a Magic: the Gathering page, a Mega Man X page, and a Chrono Trigger page. Check back every now and then, updates are common. We also have a rec room, where you can chat with others. See ya!
The Rest of my Web Site:
E-mail Unit No. 23 at:
This is where I got most of my backgrounds and stuff from. Check it out!




Kris's Kaos My friend Kris Kimbell's page. He's got some good animated GIFs.